By Gavriella Schuster, General Manager, Worldwide Partner Group Microsoft on May 4, 2016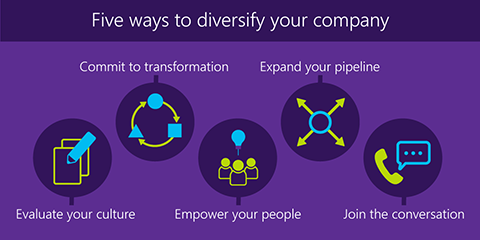 Success in business is often tied to the ability to see an opportunity others have overlooked.
Recently, I wrote about why I think you should hire millennials, and now I'd like to share another opportunity for success in the technology sector today: making an investment in a diverse workforce.
What is diversity about? It's about meeting the needs of our changing customers in a changing world. And that's just good business: a recent McKinsey study observes that "companies in the top quartile for gender or racial and ethnic diversity are more likely to have financial returns above their national industry medians," while firms in the bottom quartile are statistically less likely to achieve above-average returns.
In particular, investing in women has proven to be beneficial. The New York Times reports that having more female board directors correlates with higher return on sales, better stock growth, lower risk of insolvency, and a lower likelihood of financial restatement. And that's not just for big corporations: a study of more than 20,000 start-ups showed that successful tech companies have more than twice as many women in senior positions than unsuccessful ventures.
However, while the data shows that having employees with different perspectives can help your company attract and retain top talent, serve more customers, and perhaps uncover an insight that leads to greater market reach and competitive advantage, increasing diversity in your organization is no easy feat.
Here are a few things leaders can do to tackle this challenge:
1. Evaluate your culture.
In order to create an environment where diverse ideas thrive, you first need to understand the culture that currently exists. Take the time to gather feedback from your employees and leadership—are there certain habits or processes at the company that limit diverse perspectives from thriving and being heard? What are the blind spots? Keep in mind that research shows male employees can drastically underestimate the challenges their female colleagues might be experiencing. Be sure to gather information from a variety of sources.
Consider hosting a training or distributing reading materials on unconscious bias, or ways in which your company might be limiting the growth potential for employees with different life circumstances, such as mothers, or those from different cultures or language skills.
2. Commit to transformation.
As a leader of your company, you set the tone and the priorities for the business. Your success creating an inclusive and diverse culture focused on innovation and productivity will depend greatly on how visibly important diversity is to you and other top management at your firm.
How do you show your commitment? Be sure any company communications or initiatives include your personal voice—from appearing in person to discuss the values of the company and why you think it's important, to hosting open conversations and asking difficult questions of your teams. Drive others to evaluate their own teams and working styles, ask if they are actively finding sponsors and mentors for promising talent, and be honest about what policies are helping and which might be hurting.
3. Empower your people.
Building a work environment that reflects how your employees tick and their preferred modes of working can increase their satisfaction and your retention rates, particularly those of female and minority employees who may have different circumstances than you expect.
For example, you may assume that monetary reward is the best motivator; however, for those with family responsibilities (including caring for older parents or other relatives), flexibility in work schedules and remote working may be a more valuable incentive. While many tech employers assume women who leave their companies are choosing to stop working, the truth is that only 20 percent actually leave the workforce—the others are still hard at work, just not for that company.
Also, ensuring there are multiple ways to contribute to shaping decisions and policy encourages those who might not have the loudest voice in the room to provide their input. Develop ways employees can share feedback and ideas via email, IM, or community forums to ensure you are gathering the best information from multiple perspectives.
4. Expand your pipeline.
Consider where you source your talent: are most candidates recommended from current employees? Although a trusted referral is a valuable resource when hiring, it may also lead to maintaining the status quo. In the United States, there are 1.4 million more female college graduates than male graduates aged 22 to 29—that's a qualified and educated population you can train early for success in your company.
Re-evaluate the backgrounds and experience you think you need. It can be more difficult and more expensive to train non-technical skills (such as marketing, sales, and business development) to technically focused employees than it is to train a savvy marketer on your latest technology. Nurturing ambitious young talent in your company to sell your way can drive both goals: inclusivity and productivity.
5. Join the conversation.
Because Microsoft has a channel full of engaged business leaders looking to the future, we want to support you as you consider committing to diversity in your organization.
This year at the 2016 Microsoft Worldwide Partner Conference in Toronto, engage with WPC Women. WPC Women is an event-wide initiative focused on connecting the conversation about women in business and technology to the top priorities of our partner channel—building strong networks, driving innovation, and leading with purpose—resulting in success for ALL business leaders.
Look for content tagged with "WPC Women" in the WPC Session Catalog to find relevant sessions from Microsoft and external leaders.
Join the WPC Women Happy Hour in the Community Hub on Tuesday, July 12.
Find educational and actionable resources at the WPC Women booth inside the Community Hub.
Join hundreds of other WPC attendees at the IAMCP WIT Luncheon on Wednesday, July 13 at the MTCC. Register soon, as space is limited.
Other resources you can access today:
Start this conversation in your own organization. The National Center for Women in Technology provides free, easy-to-use materials such as the "Male Allies and Advocates Tool Kit" and "Tips for Writing Better Job Ads."
Connect to the IAMCP Women in Technology community to find a network of talented and committed female business leaders in your area. IAMCP WIT facilitates 32 communities around the world, with monthly meetings, global webinars, and professional networking focused on building great careers for women in the channel.