By Microsoft, on June 29, 2016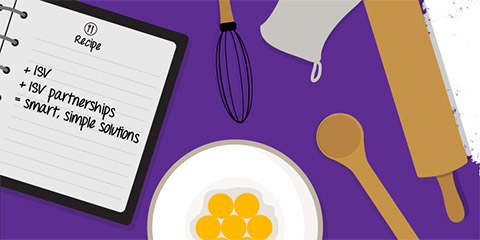 Partnering is a great way to expand your offerings and extend your reach, but there's even more power in working together. Partnership between experts in the same vertical can result in solutions that solve very specific industry problems, making difficult processes simpler and significantly reducing risks.
For example, the collaboration between partners Mi-Corporation and ePharmaSolutions is a great example of how ISV partnerships can lead to the creation of smarter, safer, and easier-to-use solutions.
ISV + ISV partnerships = smart, simple solutions
Clinical trials save lives, and the rigorous testing of new treatments can mean safer, better healthcare for everyone. However, there's a tremendous amount of necessary regulation and oversight involved, which can generate a lot of paperwork, and a lot of paperwork can mean many opportunities for human error.
To help manage documentation from clinical trials, partner ePharmaSolutions' software digitizes information, taking a lot of the "paper" out of the trials process for customers. But a big piece of that process, according to CEO and founder Lance Converse, is having correct, up-to-date consent forms signed by both the participant and the participant's physician.
That's when ePharmaSolutions found a solution that could take much of the burden of the clinical trials consent process off of physicians.
Developed by partner Mi-Corporation, the mobile forms platform Mi-Forms enables pharmaceutical research firms to easily upload new versions of the consent form to the cloud. Only the correct form is made available for the doctor to download for signing. The system uses an edit check, in-field validation, and a comprehension testing mechanism to ensure the patient completes the form with no mistakes and understands consent language. Once completed and signed on the tablet by doctor and patient, the form is uploaded to the system. Built-in audit trails ensure the integrity of the system and process.
What's in it for ePharmaSolutions
With Mi-Forms, ePharmaSolutions is able to complete an often time-consuming and arduous process more quickly, while also reducing risk of human error. For example, before implementing Mi-Forms for administering the ADAS-Cog, the leading psychometric scale used verify the progression of Alzheimer's disease, ePharmaSolutions regularly experienced errors in 40 to 50 percent of the documents received from physicians; the errors now come in at just about 6 percent. Reducing the risk of errors saves them and their customers significant time and money.
Plus, ePharmaSolutions benefitted from teaming up with an ISV with the same industry expertise. Regulations around clinical trials can be very stringent, and consent forms are one of the most audited areas of pharmaceutical research. Mi-Corporation leveraged their industry knowledge and built their solution to be compliant with the regulations.
What's in it for Mi-Corporation
For Mi-Corporation, ePharmaSolutions is providing another route to the clinical trials market. ePharmaSolutions support over 500,000 clinical researchers in 138 countries worldwide, and because they're tailoring the Mi-Forms platform for a number of different applications in clinical trials, they're opening new doors and giving Mi-Corporation extended reach with customers.
"Our best partnerships are with companies like ePharmaSolutions that really center on a vertical and can build on our platform to open new markets and opportunities within markets," says Greg Clary.
What's in it for customers
Ultimately, pharmaceutical research firms must rely on doctors to administer the consent forms to their patients. If the form isn't relatively simple to use, mistakes get made, audits turn up problems prompting warning letters from the FDA, and studies can even be cancelled. The partnership between Mi-Corporation and ePharmaSolutions helps make it easier for pharmaceutical companies to test products that can improve care and quality of life—and the benefits of that can extend far beyond the trial.
Every industry has its own unique needs and concerns, and there's huge competitive advantage for partners who can recognize and solve unaddressed pain points. The combination of Mi-Corporation's mobile forms platform and compliance knowledge, plus ePharmaSolutions' deep clinical-trials expertise, is a great example of how ISV partnerships can lead to more complete solutions for customers.