By Hans Peter Bech, Author of the Amazon #1 bestseller: "Building Successful Partner Channels" on February 8, 2016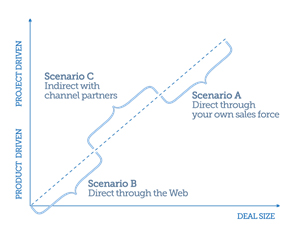 The choice between serving customers directly through your own marketing and sales efforts or using independent channel partners is highly affected by the nature of your business model.
Here are several scenarios to consider:
Scenario A: Go Direct
Comprehensive and customizable solutions for Enterprise customers in niche markets are typically very difficult to reach through independent channel partners.
The learning curve for mastering this type of solution is long and steep, there are only very few deals open in the market at any time, the sales cycles are long and the customers clearly prefer being served by the vendors directly.
The situation may change as we establish our brand.
When we have build a solid market share in scenario A it is not unusual to be approached by implementation partners. These partners are not interested in (and also seldom good at) selling our solution as there are still too few opportunities. They are attracted by the service business around our product. It may be interesting to build out implementation partners that will enhance delivery capacity.
Scenario B: Go Direct via the web
Having a simple standard solution with short sales cycles addressing a large market doesn't benefit from using independent channel partners.
The partners have little value add potential and they need to build a volume business to achieve profitability.
In scenario B you may be approached by potential resellers when you have established your brand. As there is now demand in the market for your value proposition, potential resellers can bundle your products with their current offerings and increase their share of customer's wallet without increasing their sales expenses. Likewise, you may see an opportunity to reach segments of the market where our direct reach is weak.
Both scenario A and B may introduce channel conflict, which is typically damaging for our business when we start out, but may be acceptable and even required for achieving market leadership at a later stage.
Scenario C: Indirect with channel partners
Solutions addressing the SMB market, with moderate sales cycles and with value-add potential for the channel partners are the best suited for the indirect approach.
In this scenario there is enough market volume to support many partners and as each partner can make extensions to the product they do not have to compete head on for the same business.
The value add potential will improve the channels partners' margins and make the individual business deal more profitable.
With the channel partners' extensions and implementation capacity we can reach a much bigger market.
Hans Peter Bech is an Amazon bestselling author, keynote speaker, economist and advisor. He blogs on issues related to growing software driven companies to global market leadership and write books and whitepapers on business development in the software industry.
LinkedIn: http://www.linkedin.com/in/hanspeterbech