By Gavriella Schuster, General Manager, Worldwide Partner Group Microsoft on February 18, 2016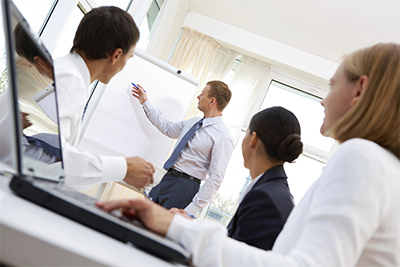 In my recent travels I have discussed with many of you the shifting power structure within our customer's making buying decisions. I thought I would share with you some of my insights on how to think about that new dialogue.
More and more in the tech industry, we find ourselves having conversations with line of business executives who may not be as excited about technology as we are.
And more and more, these execs either make or heavily influence technology purchasing decisions.
As the technology buyer changes, it becomes our job is to change the conversation right along with them.
It is our job to help these new buyers understand why they should be excited about new solutions. As trusted advisors, Microsoft partners have the opportunity to help line of business execs understand how technology can help solve their business problems and enable amazing advances and growth.
It's a whole new conversation, and partners who help buyers make the right technology purchasing decisions will be best positioned for long-term success.
Listen to your stakeholders. Listening to all your stakeholders has never been more important or more valuable. You tell us you're talking with chief marketing officers and sales people who need more leads. You're hearing from chief financial officers who are concerned about rising costs. Add in concerns with mobility, security, accessibility, and usability, and your pool of stakeholders increases exponentially.
"More stakeholders" may sound like a problem, but I agree with Tim Killenberg's idea of adopting a "new sales mindset." More stakeholders needing help can equal more opportunity for partners, so it's up to us to bring them all to the table—and listen to them once they get there.

Speak to their pain points.
Every stakeholder who hands you a problem is also giving you an opportunity to solve it. And you can: you understand their industry. You've heard their pain points. You know how your offerings answer those pain points (
CRM Online
for the CMO) and improve their business (
Power BI
for the CFO). With every problem you fix, you increase and solidify your position as a trusted advisor, which also increases the likelihood that customers will come to you with their next challenge.
Build long-term relationships.
We know that the key to success in our industry is now
building long-term relationships
with customers. Continuing to provide solutions as new business challenges arise; pro-actively alerting a customer when a new feature or product could answer an ongoing problem; providing solutions—not products—when customers ask: these are all part of the changing conversation. But building relationships is about people, and having a deeper understanding of whom you're talking to can lead to more successful conversations.
Know your (new) audience. The conversation is changing; so are the participants. More and more Millennials (born 1980-1993) are taking positions where they're involved in major purchase decisions, and the way this generation buys can be very different from Gen X or Baby Boomers.
According to the Institute for Business Value at IBM
, "Millennials, even more than Gen X or Baby Boomers, prize a hassle-free, omni-channel client experience personalized to their specific needs. They want data, speed and trusted advisors who are eager to collaborate." For Millennials, the relationship and the experience they have with vendors is paramount—did you listen to their concerns, and are you willing to collaborate on solutions?
Even if Millennials aren't yet making the final decision, they're instrumental in reaching a conclusion.
As Millennials increasingly take positions of responsibility, we have yet another reason to learn the skills required by the changing conversation and to consider hiring some within our organization to provide that perspective into our approach.
Bring partners to the conversation.
In the past, when a customer approached you with a concern that was out of your area of expertise, it might have been acceptable to turn the customer away. That's just not the case now—maintaining ALL of your relationships, whether they result in direct sales or not, is crucial.
Grow relationships like these by bringing in another partner with the capabilities the customer needs. You maintain the relationship with the customer, strengthen your position as trusted advisor, and help the customer meet their needs. Additionally, you've just created a connection with a partner that could potentially generate more profit for you both down the road. Need some suggestions?
Check out Pinpoint
for a list of Microsoft partners who can help you build your offerings.
It's a fact: the technology sales conversation is changing, and we all need to change with it to stay ahead of the competition. For ideas on just what words to use to get the conversation started, be sure to see our
ModernBiz resources
. These conversation starters, including web copy, sales decks and more, will give you a head start on understanding your customers and how to work with them.